Cumulative Charge To Get Goddess Of Fire And A Lot Of Diamond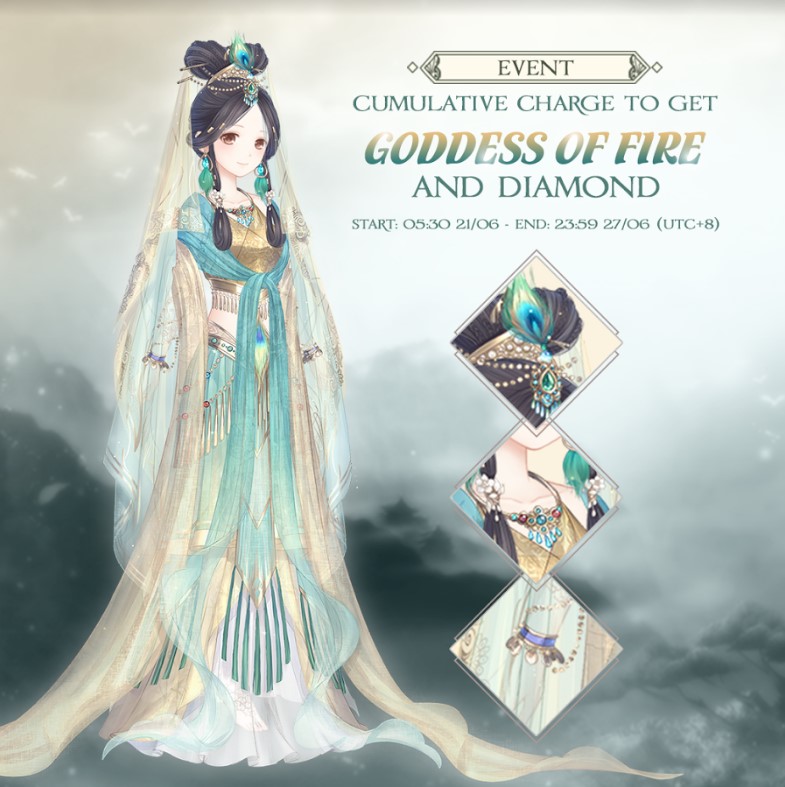 Event Time
Singapore, Phillipines, Malaysia (UTC+8)

Start: 05:30 21/06/2017.
End: 23:59 27/06/2017.

Indonesia, VietNam (UTC+7)

Start: 04:30 21/06/2017.
End: 22:59 27/05/2017.
Event Summary:
Step 1: In the main screen, tap Event -> choose Accumulated recharge of various benefits.
Step 02: During the event, if your total recharge reaches the tier below, you will obtain each part of the Goddess of Fire suit.

Total recharge reaches 120 diamond: Purple Water Drop + Halo Stone
Total recharge reaches 180 diamond: Heaven Smoke + Mysterious Butterfly + Halo Gloves
Total recharge reaches 360 diamond: Jade + Goddess of Fire + Flame Boots
Total recharge reaches 660 diamond: 250 diamond + 50 Starlight Coin
Total recharge reaches 1200 diamond: 360 diamond + 300 Stamina
Total recharge reaches 2000 diamond: 550 diamond + 100.000 Gold
Total recharge reaches 3000 diamond: 800 diamond + 260 Association Coin
Note
Extra diamond from the First Recharge Double bonus will not count.
If this is the first recharge, then STAR will get:

x2 diamond (first recharge).
Winter Angel set (first recharge).
Event reward corresponding to specific diamond-tier.